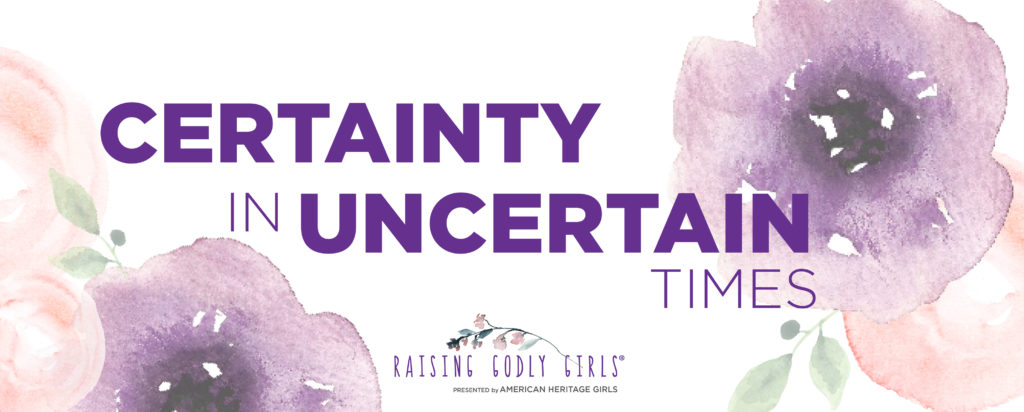 Amid the uncertain circumstances we face today with the overwhelming difficulties of COVID-19, we can still be confident of this very thing—God is with us. He is our solid ground when it seems that all around us is shifting sand. He brings comfort to the weary and healing to the brokenhearted. The same God who walked the Israelites through the Red Sea, wilderness, and the Promise Land is watching over us with His protection and provision.
AHG wants to partner with families and provide resources that guide parents on how to holistically protect their families as they face uncertainty, encourage families through comfort in Christ, and connect families to a closer relationship with the Lord and each other in fun ways.
PROTECTING
Knowing how to protect your body, mind, and spirit is half the battle during any time of tragedy and uncertainty. Use the websites and resources below to gain knowledge and put into practical ways to keep your body, mind, and spirit healthy!
ENCOURAGING
Read through the Psalms
Remaining close to God in times like these is essential to our spiritual growth. David, the Psalmist, experienced an array of emotions as he fought against fear and uncertainty. He comes to the Lord with prayers and praises in response to who God is and what he believes about God's promises. This calendar can be used as a Troop, as a family or individually to learn about how God taught David to view things from His point of view—which is comfort, not fear.
Remember the Lord's Faithfulness in Song
Praise and worship songs give us opportunities to connect with God, personally and publicly. Many of these songs are based on Scriptures such as Isaiah 41:10, NKJV: "Fear not, for I am with you; Be not dismayed, for I am your God. I will strengthen you, Yes, I will help you, I will uphold you with My righteous right hand." When feeling anxious or fearful, it is essential to cling to these truths. Consider creating an uplifting playlist by searching for songs with themes of hope, peace, and love.
Turn to Scripture that Reminds You of God's Promises
The Bible teaches us that through God, we do not have to fear. When anxiety or worry starts to creep into our minds, we can armor up with the Sword of the Spirit—the Scriptures. You can read, meditate, and/or memorize verses such as the examples below to help combat against anxious thoughts:
FOCUSING
God has given us His Word as the way to combat fear and shift your focus from circumstances to relationships. This shift in focus includes spending intentional time with God, connecting with family and friends in creative ways, and working on personal development.
Spending Intentional Time with God
Right Now Media
Right Now Media is an option of encouragement and fun. Every AHG Member is given free access to Right Now Media's extensive library of streaming content that will inspire and encourage you, available on your phone, tablet, computer, or TV. AHG Members, check your email for a link to create a FREE account today!
Connecting with family and friends in creative ways
Look for the helpers amidst the struggle.
People may experience fear, confusion, and isolation when social distancing occurs. If you are struggling during this time, identify those you can connect with to assist you. Reach out to family, peers, and close friends and talk through your emotions. Let them help you discern what is factual and true. Allow them to speak life into you through Scripture and conversation.
Do what you can do today.
Even when you are social distancing, try to stay connected to friends, family, and your community! Spend time caring for and encouraging others, as well as take time to refuel yourself!
Connect as a family:

Complete an AHG Badge together: The Together as a Family Badge would be a great place to start!
Serve one another: Serve your parents by listening and being a good helper. Serve your siblings by looking for ways to care for them and play with them.
Have fun together: Play games, build a blanket fort, have a dance party, enjoy being together.
Grow closer to God together: Write a family mission statement, list goals, and plan for the future, pray together, read the Bible together.
Reach out: Connect with relatives who don't live in your household by mailing letters or drawing pictures for them, or give them a call!
Connect with others:

Write to a friend: Write extra letters and draw additional pictures to send to your AHG Pen Pal! Or write to a friend that you miss seeing at school.
Connect with your Troop or Unit: Connect by writing letters or sending pictures through a temporary Troop pen pal program. Or have a virtual meeting!
Call someone: Call a friend, Troop Member, or trusted mentor. Encourage them and be encouraged!
Serve from afar: Look for food drop-off centers, send cards or letters to nursing homes or shut-ins, think of ways to support any medical care professionals in your life.
Adults need to stay connected, too: Leaders are encouraged to stay connected and support each other during this time. Share ideas, resources, prayers, and devotionals.
Leverage the Jump:
The Jump is a social platform that provides opportunities for authentic community in a safe environment. AHG encourages everyone to utilize this free social platform as a way to engage with the AHG Community. Your Troop Jump, State Jump, Area Team Jump, and Community Jump are great ways to maximize communication in a virtual environment providing:

Verification of AHG Members and Troops
Safe environment to allow two-deep leadership within Troop Jumps
Secure area to share resources such as videos, photos, and documents
For more information visit https://thejump.com/ahgcommunity/
Working on Personal Development 
Badges
Badges are full of fun, and many are well-suited for at-home work or virtual badge earning. AHG recommends starting with the Family Living Frontier Badges Together as a Family and Toys and Games. These badges can bring families together during tragedy and uncertain times. Modify family activities where Troop involvement is needed.
Listed below are other fun badge options to work on with your family:
Heritage Frontier:
Ancestor Detector
Living in the USA
Our Constitution
Family Living Frontier:
Arts Frontier:
Artastic
Creative Crafts
Creative Writing
Pen & Paper Arts
Puppetry
Outdoors Frontier:
As a family, a girl could go for a walk ("hike") or camp in their backyard depending on supplies
Personal Well-Being Frontier:
All God's Children
Best Me I Can Be (some requirements go over healthy habits)
Bible Basics
Daughter of the King
Physical Fitness
Science & Technology Frontier:
Internet Adventure (if computer and internet access is available)
Information and Safety Pledge on AHGsource > Advancement & Recognition > Girl Award & Advancement > under Documents
Patch Programs
Patch Programs are fun to do with families. AHG suggests altering any Troop-related activities to the family setting, or any actions to be done outside the home could be saved for a later date. All Patch Programs are on AHGsource >> Patch Programs. Here are some suggested AHG Patch Programs you can do from home!
Alliance Resources
Veggie Tales: Watch a Veggie Tales video and check out their website for fun, downloadable activity guides: https://www.veggietales.com/activities
JellyTelly: Enjoy safe Christian entertainment that inspires kids, makes them laugh, and encourages their creativity. They encourage kids to pursue a life of faith, a relationship with God, and a redemptive mission in the world.
Alliance Offers
The Great Flip: For only $10, families may subscribe to the online self-defense videos. Use code tgf10. This offer is good through the end of March. There are fun solo-conditioning drills and simple self-defense skills for ages six and up. www.thegreatflip.com
Renata Bowers: FREE daily online storytime with Frieda B. Author Renata Bowers. Monday through Friday at 4pm EST. Beginning March 18, Renata will read a children's story live.  Sometimes the story will be hers and sometimes someone else's. facebook.com/FriedaBHerself
Adventures in Oddessy (Focus on the Family): A 4-week free trial of the Adventures in Odyssey Club for your family. Click here to get started with your free trial. 
Recommended Booklist
Select titles are available for purchase in the AHGstore.
Habitudes for American Heritage Girls: The Art of the AHG Creed by Tim Elmore
Habitudes for American Heritage Girls: The Art of Engaging the Leader Within by Tim Elmore
Free to B. a Blessing by Renata Bowers
Frieda B. Meets Man in the Moon by Renata Bowers
Frieda B. and the Zillabeast by Renata Bowers
Frieda B. and the Finkledee Ink by Renata Bowers
Frieda B. A Great Day at the Dog Park by Renata Bowers
Shock & Awe
Reckless Faith by Beth Guckenberger
Relentless Hope by Beth Guckenberger
Tales of the Ones He Won't Let Go by Beth Guckenberger
The Heart of Womanhood PORTRAITS Series: 31-lesson study through Proverbs 31.
Love Like Louie by Danise DiStasi
Lead Like Louie by Danise DiStasi