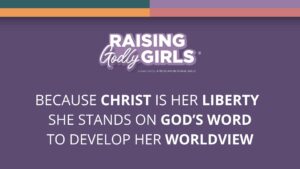 Has your girl recently come home frustrated and frazzled from an interaction gone awry? Whether the differing views surround the sanctity of life or the use of Tik-Tok, conversations can grow and test her faith. 
When opinions clash, it can be difficult for her to respond with grace when she feels like her anchor is shaken. Evangelist Oswald Chambers reminds Christians that we have one liberty, and that is in Christ. So, we are liberated to reason through and land differently on a myriad of issues, but our unity must be securely anchored in the Word of God. Galatians 5:1 shares, "Stand fast therefore in the liberty by which Christ has made us free…" 
Guide your girl both in grit and grace, never diluting the Truth of God but always working for gentleness and respect toward others.  
Listen to the Raising Godly Girls Minute with Patti Garibay: