AHG is honored to invite you to a night of celebration
Thursday, September 17, 2020
8-10pm et

Your registration allows you to view the LIVE event on September 17, 2020 from 8pm–10pm ET and also gives you access to view the event "on demand" immediately following the LIVE event through September 25, 2020.
American Heritage Girls is celebrating God's faithfulness over the last 25 years, and the provision He has in store for future generations.
Our world is desperate for change: for light, hope, love. Our culture is simultaneously erasing God and thirsting for the life-giving water only He can provide. The American Heritage Girls (AHG) Ministry has a rich history in sharing the promises of Christ with the next generation.
. . .
AHG has proven to be an effective catalyst for building women of integrity who follow Christ. AHG's legacy has been the spread of Christ's redeeming love in our world, ultimately growing His kingdom. The Holy Spirit has left an indelible mark on the hearts of generations of girls through AHG. In 25 years of ministering to girls, families, and communities nationwide, we can already see the impact AHG's legacy is making. It's our duty to continue this incredible ministry He has given us and share the love of our Heavenly Father with His girls.
We invite you to join in sustaining this legacy for generations to come through this opportunity to invest.
We Look Forward to Celebrating With You, Register
Today!
REGISTER NOW
Register to attend the AHG 25th Anniversary Virtual Legacy Gala. (Note: a $30 registration fee is required to attend the event.)
SPONSOR A TABLE
Sponsor a virtual table and get free registration for up to 10 friends, plus added perks. More information available in the link below.
GIVE TODAY
Can't attend the event but ready to make your contribution to the ministry? Make a one-time gift or enroll in monthly giving to sustain AHG's important Kingdom-building work.
How Will You Contribute to the Legacy of
AHG?
One night of celebration, years of Kingdom impact.
For 25 years, generous benefactors have fueled the transformational effects of the American Heritage Girls Program in communities nationwide. The AHG 25th Anniversary Virtual Legacy Gala is an event to honor the commitment of those who support the ministry, celebrate AHG's success, and usher in the future of AHG.
Your registration allows you to view the LIVE event on September 17, 2020 from 8pm–10pm ET and also gives you access to view the event "on demand" immediately following the LIVE event through September 25, 2020.
Schedule of events*
8pm Welcome with Patti Garibay
8:15pm Worship with Francesca Battistelli
9pm Keynote by Dr. Meg Meeker
10pm Closing
*Subject to change
Celebrate AHG's Legacy with Friends
Meg Meeker, MD
AHG Legacy Gala Keynote Speaker
Join AHG in welcoming Meg Meeker, MD to the 25th Anniversary Legacy Gala.
Dr. Meg is a pediatrician who has practiced child and adolescent medicine for 31 years and is an author of six books including the best-selling book, Strong Fathers, Strong Daughters; Strong Mothers, Strong Sons, The Ten Habits of Happy Mothers and more. She is a nationally acclaimed speaker on parenting issues and speaks at Dave Ramsey's Smart Conference. She has appeared on numerous national television and radio shows including The Today Show, NPR, Today with Kathie Lee and Hoda, Dateline NBC, The Ingraham Angle, Fox and Friends and the Dave Ramsey Show. She has spoken at the United Nations on fathers and serves on the Advisory Board of the Medical Institute.
Dr. Meg's podcast Parenting Great Kids has reached over 4 million listeners across the globe. She has created many online courses to help parents. She is a mother of four grown children and grandmother to five children. She has been married to her husband Walt, with whom she shares a medical practice, for 38 years.
Click here to read more about her organization, Meeker Parenting.
Francesca Battistelli
AHG Legacy Gala Worship Leader
Join AHG in welcoming back Dove- and Grammy-Award winning Christian recording artist, Francesca Battistelli! Francesca will lead our event in praise and worship.
Click here to listen to Francesca's newest album, Own It.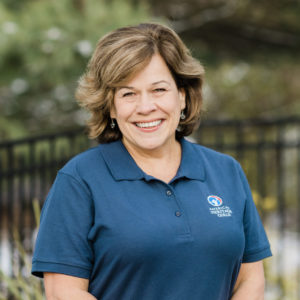 Patti Garibay
AHG Founder & Executive Director
25 years after gathering friends around her kitchen table, Patti will host the AHG 25th Anniversary Virtual Legacy Gala. Patti is the author of Why Curse the Darkness When You Can Light a Candle?, a true story of trust and obedience to those who desire to make a Kingdom impact, yet struggle with the fear of inadequacy.
Click here to learn more about the founding of AHG.
Also featuring pop-in visits from our friends Franklin Graham, Elisa Morgan, Dannah Gresh, Jim Daly, and more! Hear inspiring stories from AHG Alumnae, including some of the founding members, about how AHG has impacted their lives.
You have the opportunity to transform a girl's life through
AHG.
With your support, AHG can continue its mission to build women of integrity and girl leadership programs, introduce the ministry to more churches and schools nationwide, and in turn, grow the kingdom of God. There is a great need in our world for AHG in a time such as this. Join in supporting AHG, the premier character and girl leadership development program for girls that embraces Christian values and encourages every young woman to grow into the leader God created her to be.
Ready to give? Join the AHG legacy donor club:
Legacy Champion: One-time gift of $5,000 or more
Legacy Keeper: A recurring monthly gift of $75 or more
Legacy Builder: A recurring monthly gift of $50
Legacy Partner: One-time gift of $500
To learn more about AHG Legacy Donor Club benefits, click on the link below.
Donate Here
American Heritage Girls Through the Years
In 1995, American Heritage Girls was founded by a group of parents that desired a faith-based, character development program to guide their daughters as women of God and integrity. AHG was created with the love of God through the love of families for the love of children. Since its start in 1995 in West Chester, Ohio, AHG has grown from 10 Troops and 100 Members to over 50,000 members across 14 countries and 50 states.
1995
First Troop meeting takes place, AHG Oath is created, Becomes incorporated in the State of Ohio.
1996
First Troop outside of Cincinnati, AHG Uniform is created, Level Awards are created.
1997
First office space is donated, AHG Creed is written.
1998
The Stars & Stripes Award is developed.
1999
First paid Staff Members come onboard, Adds Charter concept to Troops.
2004
First bound Girl Handbook is produced, Dolley Madison Award is created.
2005
Pathfinder Program is started.
2008
Operation Christmas Child partnership begins.
2009
Sports Pins are introduced.
2010
AHG Membership surpasses 10,000, AHG Troop Shepherd position is added.
2011
Receives first Catholic Bishop endorsement.
2012
National Day of Service is instituted.
2013
Celebrates 100th Stars & Stripes Award Recipient, Assists in the establishment of Trail Life USA.
2015
Holds 20th Anniversary Convention for two-decade milestone, 12 new badges introduced, bringing total to 273, Memorandum of Ministry Alliance is signed with Trail Life USA.
2017
1,000th Troop is chartered.
2018
AHG transitions to a national fulfillment center to meet merchandising needs.
2019
Celebrates 500th Stars & Stripes Award Recipient.
2020
AHG celebrates 25th Anniversary Year.
Read Our Story
"so the next generation would know them, even the children yet to be born, and they in turn would tell their children. Then they would put their trust in God and would not forget his deeds but would keep his commands."
Psalm 78:6-7, NIV