The Trailblazer Program is an exciting avenue to experience the AHG Program. Girls are able to work one-on-one with their mentor (parent, guardian, minister, or teacher) to provide endless opportunities for them to grow into a woman of integrity while enjoying faith, service, and fun!  Although AHG believes that its program is best delivered in a Troop setting, girls have the opportunity to experience faith, service, and fun through the Trailblazer Program! When families face steep obstacles to joining an AHG Troop, the Trailblazer Program is a wonderful alternative. Obstacles to being in a Troop may include:
living abroad as either a military, civilian, or missionary family
living more than a 60-minute drive from an AHG Troop meeting location
having a disability or condition that limits a girl's ability to attend a Troop meeting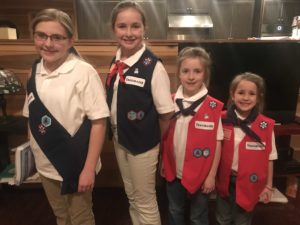 The Trailblazer Program allows families a means to independently participate in the AHG Program. As all Trailblazer family situations are unique, the program allows for minor adaptations to fulfill the AHG Mission. In the Trailblazer Program, one girl or a set of sisters are mentored by the adult age 21 or older who meets AHG's adult membership requirements* and agrees to serve as the girl's Trailblazer Mentor. The Mentor is coached through the program by dedicated AHG Staff and also has 24/7 access to online resources and training. Girls in the Trailblazer Program enjoy:
badge work
service and faith
patriotic activities
leadership opportunities
outdoor adventure
grow in confidence
Trailblazer eligibility is determined on a case-by-case basis. Want to be a Trailblazer? Complete our request form below and an AHG Trailblazer Coordinator will contact you after reviewing your information.
All Trailblazer Mentors must agree to AHG's Statement of Faith and agree to abide by the AHG Oath, Creed, and Mission Statement.