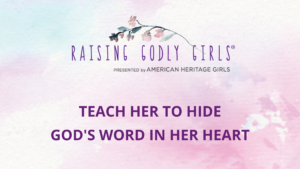 If you asked your daughter to recite your cell phone number, could she tell you from memory? It seems simple, but many of today's youth aren't learning strong rote memory skills. With Google, GPS, and Siri, one may wonder, "what's the use of memorization anyway?"
Having information at her fingertips is a blessing in many ways for your girl, but keeping her memory sharp is still vital. The book of Psalm says, "I have hidden your word in my heart that I might not sin against you." For us to hide God's word, we must study and memorize his word for the times we need it most.
Work with your girl in memorizing short Bible verses, then longer ones. This will help to strengthen her faith and her memory.
Listen to the Raising Godly Girls Minute with Patti Garibay: