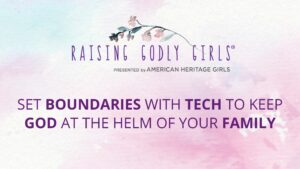 When was the last time your family had a whole day of uninterrupted quality time together? OK, that might feel like a big ask. What about an evening of togetherness without tech? A dinner without phones? 
Today's families are suffering from a new member in their homes: the Tech Intruder. Devices bring convenience AND complication to the family dynamic. While the wise response might not be abstaining altogether, it might center around boundaries with the intent to keep God in His proper place in the home—at the helm. 
Author of the book The Tech-Wise Family, Andy Crouch posits a challenge: to build wonder in your children for God. He writes: "Wonder comes from opening your eyes wider, not bringing the screen closer." Guide your girl to a healthy relationship with the Lord, and wisely bind the Tech Intruder. 
Listen to the Raising Godly Girl Minute with Patti Garibay: