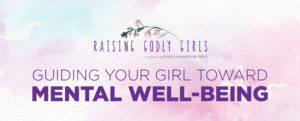 According to recent data from the National Comorbidity Survey Adolescent Supplement, an estimated 31.9% of adolescents have been diagnosed with an anxiety disorder—and the prevalence of these types of disorders is 38% higher for females. Take note: girls today are experiencing higher rates of diagnosed anxiety than ever before. They need our help.
Thanks to the Bible, we know how God cares for those afflicted with anxiety. After the death of Moses, Joshua was without a doubt anxious about his own future. But God said to him "Be strong and courageous. Do not be afraid; do not be discouraged, for the LORD your God will be with you wherever you go."
God calls everyone to live a life of greatness—a life and plan He has laid before us to implement. She may not be leading Israelites to the promised land like the prophet Joshua, but what is God calling your daughter to do with great courage? How is her self-discouragement crushing her? How are you supporting her along the way? Take the first step, become her prayer warrior.
Listen to the Raising Godly Girls Minute with Patti Garibay: