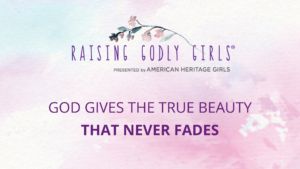 When it comes to a standard of beauty, your girls is bombarded with so many opinions of what she should look like. Have you ever noticed her compare her hair or outfits to other girls she's seen on social media or TV?
If your daughter becomes more concerned with how she looks on the outside, rather than her beauty on the inside, she can lose touch with who God has uniquely designed her to be.
In 1 Peter, the apostle says, "Do not let your adornment be merely outward—arranging the hair, wearing gold, or putting on fine apparel—rather let it be the hidden person of the heart…"
As you teach your beautiful girl to groom herself on the outside, show her that the beauty God gives her on the inside is precious in His eyes and it is a true beauty that never fades.
Listen to the Raising Godly Girls Minute with Patti Garibay: