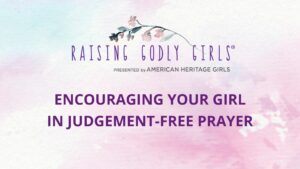 Does your girl struggle with worry around prayer? It's common for those not familiar with praying, particularly aloud, to feel anxiety about "doing it right". Girls today are especially afraid of saying the wrong thing due, in part, to growing up in a culture where 'saying the wrong thing' can result in getting cancelled. 
If your girl is afraid of offending God by saying the wrong thing during prayer time, offer her some encouragement. God cares deeply for each of us, so much so that He hears our prayers and can see our true intentions—even if we don't get the words right. 
The simplest prayer we can offer is to say the name of Jesus. There is power in His name—she can call on Him and He will hear her! 
Listen to the Raising Godly Girls Minute with Patti Garibay: