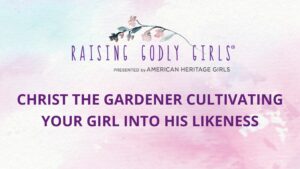 When you consider your parenting style, are you more of a carpenter or a gardener? Put simply, carpenters "fix" things, while gardeners "tend" to things. When it comes to parenting your daughter, I urge you–don't be so quick to try and "fix" her, but rather, encourage her growth the way a gardener does!  
John's Gospel says "Abide in Me, and I in you. As the branch cannot bear fruit of itself, unless it abides in the vine, neither can you, unless you abide in Me."  
God yearns for each of us to grow into the beautiful life He has planned for us. Today, remind your girl to bask in His light, quench her thirst with His life-giving water, root herself in His Word, and grow in presence of the Holy Spirit.   
John 15:4, NKJV 
Listen to the Raising Godly Girls Minute with Patti Garibay: