Therefore, as God's chosen people, holy and dearly loved, clothe yourselves with 
compassion, kindness, humility, gentleness and patience." – Colossians 3:12, NIV
AHG National 25th Anniversary Convention
NEW DATES: July 21-24, 2021
Cedarville University
Cedarville, OH
American Heritage Girls Convention POSTPONEMENT ANNOUNCEMENT
Due to the priority AHG places on the health, safety, and well-being of our AHG Community, AHG, Inc. has made the difficult decision to postpone the date of the National 25th Anniversary Convention.
AHG recognizes that the current COVID-19 public health crisis is negatively impacting our members' health, families' finances, comfort-levels with traveling, and concerns over gathering in large groups. Though unsure of the exact levels of impact, we are concerned that differing levels of impact to our AHG Members will be felt for months to come. Through fervent prayer, thorough research, thoughtful discussion, and obedience to our governing authorities, we found it best to postpone our long-anticipated celebration to a date that allows us to confidently come together as a community.
The AHG National 25th Anniversary Convention has been postponed to July 21 – 24, 2021. The location remains unchanged. We are thankful that Cedarville University has once again welcomed us to their campus for July 2021.
An impactful announcement such as this one is sure to prompt questions. AHG has compiled a Convention Postponement FAQ that will answer many of your questions as well as give you an expectation for next steps. You can access it here. If you have additional questions after reading the FAQ, please send them to conventionregistration@ahgonline.org.
From the very beginning, the AHG Convention Team has dedicated this event to the Lord. We rest in the knowledge that this is His convention and His timing is always perfect.
The AHG Staff continues to meet virtually every day for prayer for the AHG Ministry and our Troops. You are the heartbeat of the ministry and we cannot wait to celebrate with you in July 2021! Make plans now to join us as we celebrate the end of a wonderful 25th Anniversary year!
Special Message for Girls from Patti Garibay: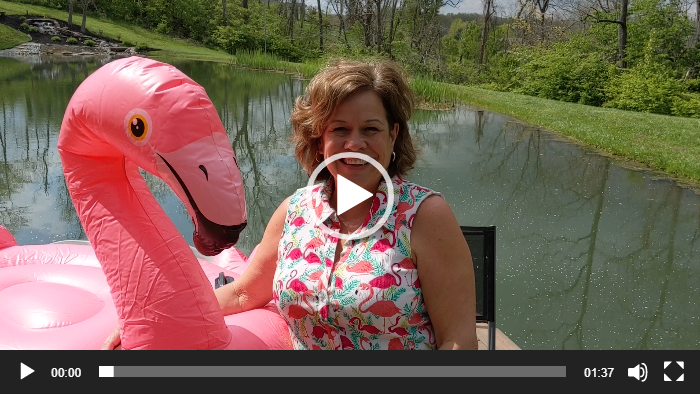 Why CHOSEN? Your daughter is a unique child of God. She is full of personality, emotion, ambition, and energy. Despite the many differences among the tens of thousands of Girl Members, every girl is CHOSEN and loved by God. She was designed by our Creator with a specific purpose in mind. Gift her with the opportunity to gather with thousands of other American Heritage Girls next summer. Convention provides your daughter the space to realize her own God-given worth, recognize her identity in Christ, and experience the unfailing love of our Heavenly Father—all while having FUN!
Why should we attend? Join American Heritage Girls from across the country at the AHG National 25th Anniversary Convention in Cedarville, OH! This three-night, four-day event will focus exclusively on the experience of the girl—she won't want to miss this once-in-a-lifetime opportunity! 2020 Convention is unlike any other AHG Girl Convention you've ever attended. Experience the heartbeat of this transformational ministry by coming together with other members of AHG in the center of our nation, near Cincinnati, the place where it all began.
What will she do? All girls (rising Tenderhearts through Patriots) have the opportunity to do as much or as little as they would like! Starting with a fun time of games and exciting activities during on-site check-in, these four days are non-stop fun!
Your daughter will participate in:

General Sessions
Girl-focused Workshops
25th Birthday Bash
SWAPS Spectacular
Private Concert with Riley Clemmons!
Pen-Pal Meetup
Patriot Pray and Play activities
Mixed into each day's big activities, there will be pop-up surprises to delight in, service projects to participate in, friends to laugh and hang out with, dance parties, meaningful prayer times and so much more!
What will I do? Adult Members will attend Convention alongside the girls. What a great opportunity to truly connect as you experience many of the activities together! During girl-focused workshop sessions, all adults will not be guaranteed a seat in a workshop. If ratios are met in the workshop, you are invited to head over to the Chapel for a Parent Talk centered around relevant topics just for you! Adult Members will also enjoy Pop-up Mom Stops and Dad Stops, Networking Zones, be inspired, laugh, play, and find your inner child. Take time to visit the AHGstore, browse all the exhibits, and take away great nuggets of information back to your Troops. You will come away with a stronger bond to your daughter and to AHG as a whole. What an awesome opportunity to see AHG on a National Level along with your daughter!
---
Featured Concert Artist: Riley Clemmons
AHG is tickled pink to announce that Riley Clemmons will be our featured concert artist at the AHG National 25th Anniversary Convention in July 2021!
Capitol CMG artist Riley Clemmons' music is the intersection of her root in church music and love for fresh, upbeat pop. Her first single, Broken Prayers, is a powerful anthem that combines compelling melodies with a rich, thoughtful chorus. Though youthful, Riley has a seasoned strength that shines throughout her music. Riley is a recent nominee for the 2019 Dove Award's New Artist of the Year and has over 50 Million global streams of her music. Her recent hits are Broken Prayers, Better For It, Fighting for Me, and her newest release FREE. Download her music today!  
---
Convention Resources

Postponement FAQ:
Important information regarding the postponement of the AHG National 25th Anniversary Convention can be found at this link:
AHG Convention Postponement FAQ
Fundraising Guidelines:
SPONSORED BY: