Troop Structure
In American Heritage Girls, girls ages 5-18 meet together as a single Troop at the same time. This allows a girl the social experience of interacting with friends and Godly mentors, as well as learning leadership through interacting with younger girls in a large-group setting.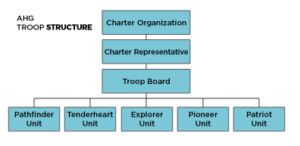 An AHG Troop can . . .
meet during the day, in the evening, or even on the weekend. Most Troops meet during the school year but some meet year-round.
meet once a week, every other week, or twice a month, as determined by the Troop Leadership with input from Troop families.
vary in size. Some Troops have as few as 12-15 girls and some are much larger. The average number of girls per Troop is about 35-40 girls.
be chartered through a church, private school, or other non-profit organization that abides by the AHG Statement of Faith.
Although each Troop may differ in how they deliver the program, all AHG Troops agree to:
Live according to the AHG Oath, the AHG Creed and the AHG Mission Statement
Offer 5 Levels of age-appropriate programming
Provide a minimum of three service projects per year
Offer Level advancement opportunities for all girls
Serve as ambassadors of American Heritage Girls' ideals in their community
Provide an open, caring, and accepting atmosphere where girls can grow spiritually, socially, emotionally, and physically
HOW DO TROOP MEETINGS RUN?
Though each Troop has the flexibility to adjust their Troop Meeting structure to meet the needs of its girls, most Troops follow a schedule similar to this:
Sample AHG Troop Meeting Schedule:
6:45-7:00 pm – Connecting/socializing time in individual Units
7:00-7:15 pm – Flag Ceremony, prayer, and announcements as a whole Troop
7:15-8:00 pm – Badge work in individual Units
8:00-8:15 pm – Snack, cleanup, and closing prayer in individual Units or whole Troop
Troop meetings usually break into Program Level, age-specific groups called Units for Badge work or other activities. Troops are led by dedicated Adult Volunteers who facilitate the AHG Program while incorporating girls' valuable input. By the time girls are Patriots, they are ready to be making decisions around Unit activities, badge work, and leading their Unit time.
Troop Costs
The AHG Program is wonderful value, especially when you look at the cost of other youth activities. AHG is much more than an extra-curricular – it's a ministry with the potential to impact generations to come!
The initial Charter Fee is $325, with an annual renewal fee of $195. Many Charter Organizations include the AHG ministry in their children's or women's ministry budget lines. Other Troops choose to fundraise annually to cover these Charter Fees.
Annual Membership Fees, Program Support Feeds, cost of uniforms, handbooks, badges, and activities are typically covered through Troop dues, fundraisers and donations.